More Than You Think
---
Genesis brings to the table much more than the time-honored Westcapper® sealing technology. We bring a complete understanding of the parenteral package itself. Our technical experts maintain long-standing relationships with parenteral package component manufacturers. We know the vial package. Our expertise in the science of sealing is deep-rooted and so is our commitment to seal integrity.
2021 PDA Parenteral Packaging Conference
Parenteral Packaging in a New Era: Convergence of Patient, Process and Product Needs
Join us on April 27th and 28th in attending the 2021 PDA Parenteral Packaging Conference. This conference has become highly regarded for its content and quality, and this year's edition will continue the series of exceptional presentations and discussions. Industry leaders and technical experts from pharma and supplier companies along with regulators will cover many aspects of the drug package interface.
The conference program is intended to initiate and support discussion and professional exchange through a diversity of scientific podium and poster presentations, live Q&As, and virtual networking events. We will have representatives from Genesis available to chat online about any questions you may have during the conference. We hope to see you there!
The ALL NEW Second Generation
Residual Seal Force Tester
Re-designed from the ground up the NEW second generation Genesis Residual Seal Force Tester evaluate's seal tightness by measuring the Residual Seal Force in the stopper/seal combination of a parenteral package created as a result of the vial sealing process.
The FDA recognizes the use of RSF as a predictor of seal integrity.
The FDA in its Guidance for Industry Container and Closure System Integrity Testing in Lieu of Sterility Testing as a Component of the Stability Protocol for Sterile Products recognizes the usefulness of properly validated seal force testing. Most importantly, RSF is useful in the establishment, validation and control of capping machine settings.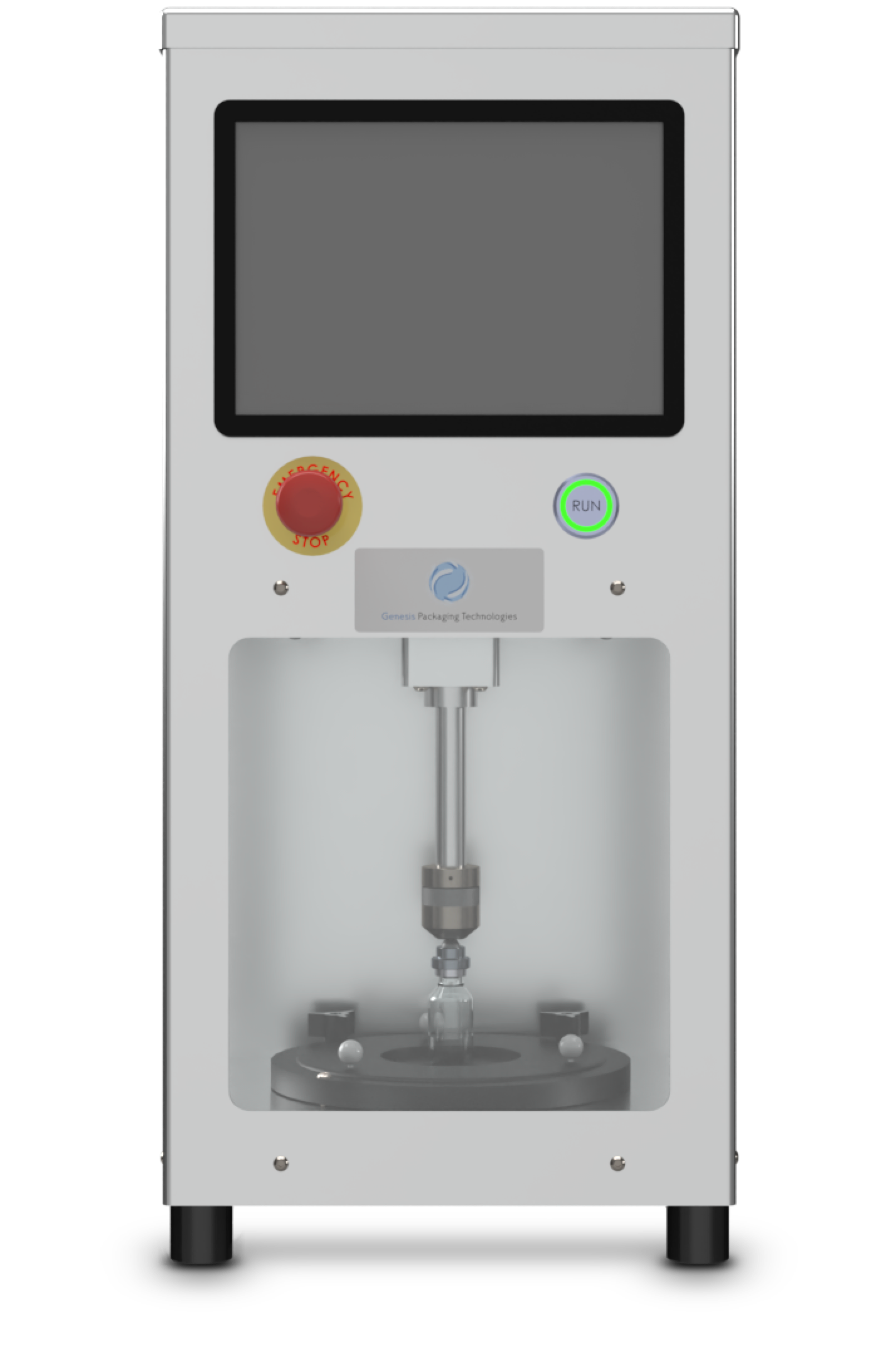 The Integra Laboratory Vial Crimper
Small Package, Big Performance
The Integra Laboratory Crimper is a small vial crimper that is ideal for development, pre-clinical, clinical, pilot and compounding pharmacy operations. Available in four configurations the Integra can meet your small batch size needs assuring the best possible seal integrity.